Ordering Terms, Payments & Conditions
Payment Terms: I accept money orders, certified checks, and personal checks (items will be shipped after personal check clears). Paypal is also welcome but please add 4% to the total. If you wish to pay by wire transfer the fee is $30.
I will also take gold in exchange for items! Please email me with what you have to trade.
Layaway & Payment Plans: Payment plans are welcome on items over $500. They require a 10% non refundable deposit (the minimum deposit is $100) and the amount of time is you need is negotiable. I am always happy to work with my customers.
Guarantee & Return policy: All the items I sell are guaranteed 100% authentic. If you receive an item and are unhappy for any reason please notify me and you may return it for a full refund minus shipping within 7 days.
Shipping: My preferred method of shipping is US postal service EMS (Express Mail Service). All packages shipped to France and Germany are the responsibility of the purchaser so please know your country's laws regarding these items.
I am a lifetime MAX/GDC certified dealer.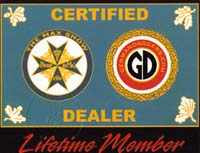 People who enjoy purchasing military collectibles often like to peruse our site. We carry a huge range of wares, including German dagger and Nazi knife options.
No matter what era you are most interested in, we have military collectibles that you will want to buy. Our selection even includes rare German dagger and Nazi knife options for people who are intrigued by World War II. When you order, you can rest assured that the military collectibles that will be mailed to you are one hundred percent authentic. We work hard to look into the histories of all of the items that we list in our catalogue. If you have questions about a Nazi knife, a German dagger, or any other product, contact us and we will be happy to help you before you place your order.